Biography:
Lionel Andres Messi is an Argentine footballer who plays as a forward for Spanish club FC Barcelona and the Argentina national team. He serves as the captain of his country's national football team.
Famous quotes on soccer :
1) In football as in watchmaking, talent and elegance mean nothing without
rigor and precision.
2)
The truth is my idea has been to always stay at Barcelona and see out the
rest of my career here. Like I always say, one doesn't know what can
happen in the future, but if it were up to me to decide, I would stay at
Barcelona for the rest of my career.
3)
It's not so easy for us when we play teams who have a different mindset,
like Chelsea or Inter Milan, because they have the intention of trying to
stop us rather than playing a game that is more attractive for the
spectators to enjoy.
4) I have fun like a child in the street. When the day comes when I'm not
enjoying it, I will leave football.
5) The truth is that I don't have a favorite goal. I remember important
goals more than I do favorite goals, like goals in the Champions League
where I had the opportunity to have scored in both finals I have played
in. Finals in the World Cup or Copa del Rey are the ones that have stayed
with me for longer or that I remember more.
6) I've always really just liked football, and I've always devoted a lot of
time to it. When I was a kid, my friends would call me to go out with
them, but I would stay home because I had practice the next day. I like
going out, but you have to know when you can and when you can't.
7) I prefer to win titles with the team ahead of individual awards or
scoring more goals than anyone else. I'm more worried about being a good
person than being the best football player in the world. When all this is
over, what are you left with? When I retire, I hope I am remembered for
being a decent guy.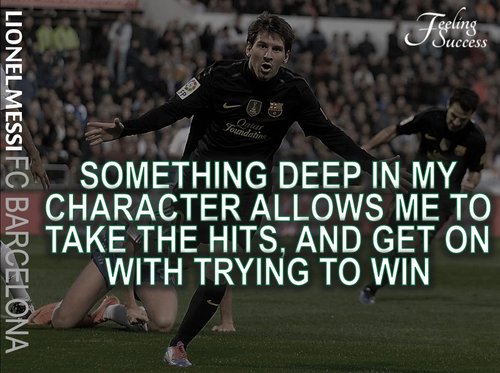 8)
Money is not a motivating factor. Money doesn't thrill me or make me play
better because there are benefits to being wealthy. I'm just happy with a
ball at my feet. My motivation comes from playing the game I love. If I
wasn't paid to be a professional footballer I would willingly play for
nothing.
9)
Whether it's a friendly match, or for points, or a final, or any game - I
play the same. I'm always trying to be my best, first for my team, for
myself, for the fans, and to try and win.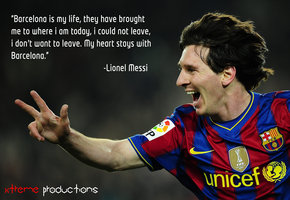 10)
The day you think there is no improvements to be made is a sad one for
any player.
11)
What I do is play soccer, which is what I like.
12)
One
of the Arsenal players came up to me afterwards and said it had been an honor to be on the same pitch as me. I thought, My God, that is a great thing to say when you team has just lost.
Related Posts : 1)13 awesome quotes by Lionel Messi about life, success, soccer and more
2) Top 36 Famous quotes about Lionel Messi
So friends, if you liked this article, share with others and inspire them :).